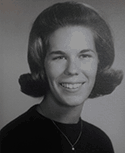 (Kathleen Johns in the mid-1960s)

This page is being updated as of 1/9/20.
If you have any information about this case, please contact me.

Kidnapped: March 22, 1970 (Sunday)

Case number: C62677

Time of attack: Approximately 11:15 p.m.

Place of attack: Highway 132 near Patterson, Calif.

Method of attack: Kathleen Johns, age 22, and her infant daughter were on their way to visit a sick relative in Petaluma, Calif. A man Johns later identified as Zodiac disabled her car as it was parked along the highway, then kidnapped her and her daughter. There were no witnesses. Johns car was later found burned about two miles from where she claimed to have left it.

Below: Kathleen Johns featured on television's "Hard Copy" from May 1994.

(The unnamed suspect mentioned in the above video is Lawrence Kane.)

Details: Johns had pulled over because a man in another car had gestured that one of her wheels was wobbling. The man also pulled over and offered to fix the problem. Instead, he seemingly made it worse. When Johns pulled back onto the highway, the wheel came off. Once again offering to help, the man convinced her to accept a ride to a service station. However, according to Johns, the man drove her and her baby around desolate backroads near the town of Tracy for almost two hours, threatening to kill them. The man was approximately 30 years old, 5'9", 160 pounds, had short dark hair and was wearing heavy-rimmed glasses and dark clothing. Clutching her daughter, Johns was finally able to escape and found a ride to a nearby town. Once at the police station, Johns spotted the Zodiac wanted poster and frantically identified him as being responsible for the abduction. Over the next few days, San Francisco's major newspapers, the Chronicle and Examiner, ran stories on the incident. On July 24, 1970 Zodiac mailed a letter to the Chronicle, apparently taking credit for the crime.

Zodiac victim? This case is a mess. First of all, while Johns claims her life was threatened, the police report tells a different story. In fact, of the three reports I've read, none detail any statements by Johns about being threatened in any way. (According to Kathleen, the police officers must have relied on memory when preparing her reports, as they didn't document any of her story while she was present.) And even though Zodiac wrote a letter in apparent reference to the incident, he uncharacteristically failed to provide the details that would have clearly established his involvement.

Conclusion: If it truly was Zodiac who Kathleen encountered, his actual tally of victims might be much higher than anticipated. However, the possibility exists that Zodiac was merely attempting to take credit for the crimes of another.



Kathleen speaks | 87KB/MP3

Also see:
Zodiackiller.com MESSAGE BOARD