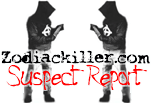 ---
Think you know who Zodiac is? Now is your chance to turn him in.
Using the form below, please include, in as much detail as possible, why you suspect the individual of being Zodiac. You may remain anonymous if you wish.

Or, call the Zodiackiller.com Info Line at (415) 267-4818 .

NOTE: If you wish to be contacted, please include an e-mail address below.