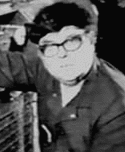 (Rick Marshall, late 1960s)

NEW! Birth Certificate

NEW! Social Security Application

NEW! The "Red Phantom" Connection

NEW! Watch "El Espectro Rojo"

UPDATED! 1969 San Francisco Apartment

UPDATED! Avenue Theatre

Rick Marshall, 1970s

Informant Report

1968 Newspaper Article 1 | 2

Marshall's Handwriting?

1960s Riverside Residence


*On March 13, 1926, Richard Reed Marshall was born under the name Joe Don Dickey, in Slaton, TX (Lubbock County)

*Throughout most of his life, Marshall alternated between the two names, for unknown reasons

*Marshall's father worked as a conductor for the Santa Fe Railroad and his mother was a housewife

*At age 18, Marshall joined the navy and served several years

*By the early 1940s, Marshall was living in Roswell, NM and using the birthdate of March 13, 1924

*Marshall settled in Seattle, Wa. during the early 1950s, taking a job with Boeing and using the birthdate of April 7, 1928

*In the mid-1960s, Marshall lived briefly in Riverside, Cal. before settling in the San Francisco Bay Area

*Over the next four decades, Marshall lived in San Francisco, San Rafael, and San Jose, until finally being moved to a care facility in Sacramento, Cal., where he died from issues caused by Parkinson's disease

*During the Zodiac's crimes in 1968 and 1969, Marshall worked at a San Francisco silent movie theater called the Avenue

*On Marshall's 45th birthday (March 13, 1971), the Zodiac killer mailed a letter to the Los Angeles Times newspaper

*In the early 1970s, Marshall worked as an engineer for San Francisco Bay Area radio station KTIM

*By 1974, Marshall was living in Marin County and operating another silent movie theater, the Port

*In 1976, Marshall became a Zodiac suspect after making suspicious comments over his ham radio

*Marshall agreed to be interviewed by Zodiac detective Ken Narlow, but denied being the Zodiac killer

*In 2001, Marshall e-mailed me, becoming the first Zodiac suspect to ever contact me (that I am aware of). Marshall was upset over a rather trivial detail that he had read here at Zodiackiller.com -- I had described his 1974 residence as a warehouse...but according to Marshall, it was actually an "industrial building." Full e-mail below (I've corrected the odd spelling errors):

Subject: silly man!!
From: rikitik
how can you waste time and energy on this dead horse Your information regarding me is fifth or sixth hand, for instance: I never lived in a warehouse in Marin. I leased an industrial property at 36A Front st in which included a four room fully equipped apartment. If I find any further scurrilous debasing dope handed out from this source, be prepared to defend a personal damage suit by a first-rate attorney, sgd Richard R Marshall

MY THOUGHTS ON THE E-MAIL:
I've disregarded his spelling errors simply because they could have been caused by age-related issues, such as poor eyesight. That said, like the Zodiac killer, Marshall seemed to overreact to perceived lies told about him in the media. Nitpicking over the use of "warehouse" instead of "industrial building" seems rather outlandish. And, mentioning an attorney was also something the Zodiac did. (I replied to Marshall's e-mail but never heard back)

*In 2007, Marshall was living in a trailer park in San Francisco, receiving monthly royalty checks from a Texas oil company, payable to "Joe Don Dickey"

*In July 2008, I received a phone tip (415 267-4818) from a woman who worked at a care facility in the Sacramento (Cal.) area. She told me that Marshall was a patient where she worked, and that he had spoken about the Zodiac case. She found him to be extremely suspicious and was not sure what to do. Thinking Marshall might finally be ready to talk due to his advanced age and deteriorating health, I contacted my sources at the Napa County Sheriff's Dept., the agency that originally investigated Marshall back in the 1970s. Two detectives made the trek to Sacramento and made the determination -- via unknown methods -- that Marshall likely was not the Zodiac killer. As far as I know, DNA testing was not performed. Therefore, in my opinion, Marshall remains a viable Zodiac suspect

*Marshall died on Sept. 8, 2008

Back to The Suspects.