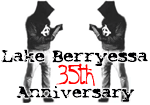 On Sept. 25 and 26, 2004, Zodiackiller.com held public gatherings at Moskowite Corners General Store/Tavern near Lake Berryessa in Napa County, Calif. to acknowledge the 35th anniversary of the Zodiac's attack of a young couple at the lake. The goal of the event was to share information that might help advance the case and catch a killer.
In addition to the public gathering, a private group stayed at Lake Berryessa's Spanish Flat Resort. Included were Zodiackiller.com Message Board members Bill Baker, Sandy Betts, Scott Bullock, Victor Cantu, Lisa Dahlia, Angie Dangie, J. Eric Freedner, Ed Neil and Jim Tekrony.
Click pictures for larger images.
For best results, begin at left column and work your way down in order.

From left to right: Bill Baker, Victor Cantu and Ed Neil at Lake Berryessa's Spanish Flat Resort.


Scott "the Giant" Bullock is greeted warmly by Lisa Dahlia (left) and Sandy Betts. Scott came all the way from Denver for the event.


We had a great time discussing the case in the beer garden at Moskowite Corners. Nick and Weeza from the message board even stopped by.


From left to right: Ed, Angie and Scott at Spanish Flat.


From left to right: Lisa, Bill, Sandy, Ed, Scott, Jim Tekrony, Victor and J. Eric "Doobie" Freedner


Ed and I break in the new Stine steins, which feature the likeness of Zodiac victim Paul Stine.


A toast and remembrance for the victims. We all had fun, but we never forgot why we were there.



Chef Doobie tries to explain what he just cooked, as Scott looks on in dismay. Doobie just might be the world's worst BBQ chef.


From left to right: Doobie, Scott, Ed and Angie. Doobie appears to be suffering from acute food poisoning.


Doobie, Scott and I compete in the world's first Arthur Leigh Allen Coors Challenge. (Zodiac suspect Allen was a huge Coors fan.) Before we could even make a dent, Scott had finished his beer and crushed the can, thus winning the event.


We all crack up as Scott reveals his prize...


Yes, it's an Arthur Leigh Allen novelty thong!


Scott could only find one place it would fit...

-- BONUS VIDEO --



Late Sunday night, Ed, Scott, Doobie, Angie and I decided to head to the crime scene.


From left to right: Doobie, Angie, Ed and Scott near the gated entrance just off Monticello Road. Because it was after hours and closed to vehicle access, it was a long hike to the crime scene.


Ed and Angie discuss the facts.


The picnic table is located at almost the exact spot where victims Cecelia Shepard and Bryan Hartnell were attacked.


As Ed looks on, Angie and Scott listen to the coyotes howl. It was quite spooky out there at night. Needless to say, Zodiac didn't show up. (Neither did BTK...)


That's a parking permit on Ed's windshield, not a ticket. We were lucky to have made the trek to the crime scene without being stopped by park rangers.


Scott waves goodbye at the San Francisco airport before heading back home to Colorado. See ya next time!