(Actual passport application below)
In 2008, shortly after the online Zodiac masses began to learn about Richard Gaikowski, an article came to light which Gaikowski had written back in late 2003. The article detailed Gaikowski's life in Albany, NY from when he had lived there in the late 1960s, working for the local newspaper. The article concluded with:

"I felt burned out and left The Knickerbocker News at the end of September (1968) and headed for Europe to lick my wounds."

To an extremely vocal minority, Gaikowski's vague "headed for Europe" claim was heralded as "proof" that Richard Gaikowski was in Europe on exactly Dec. 20, 1968, and thus could not be the Zodiac killer. However, let's look at the facts:

*As clearly seen below, Richard Gaikowski applied for a passport in early October 1968, intending to visit the United Kingdom, France and Spain.

*Gaikowski planned to return to the United States by December 1, 1968.
(That return date would be nearly three weeks prior to the Zodiac killer's first San Francisco area murders.)

*APPROXIMATE DATE OF DEPARTURE: Nov. 1, 1968

*PROPOSED LENGTH OF STAY: One month

*CONCLUSION: There is literally no evidence supporting the myth that Richard Gaikowski was out of the United States in December 1968 -- including his having allegedly authored a newspaper article from Ireland. So, you might wonder, how did Gaikowski's "headed for Europe" claim somehow become unequivocal "proof" of his innocence? Simple -- also see: The Man Behind The Falsehoods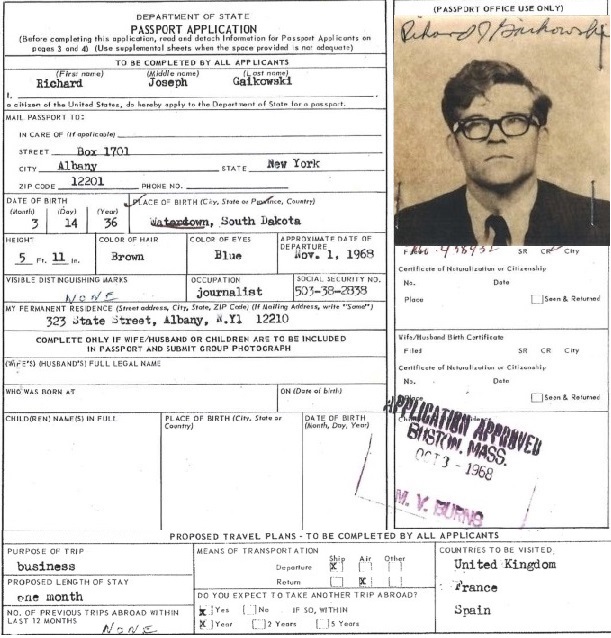 If you remember Richard Gaikowski, please contact me.