Dec. 1, 2010) Retired Zodiac detective Ken Narlow has passed away after a strong battle against cancer. Narlow, who was a great friend to this website, worked for the Napa County Sheriff's Dept. for several decades and was the original detective assigned to investigate the Zodiac's attack at Lake Berryessa. He died in Napa on the afternoon of Monday, Nov. 29, 2010.

A recent e-mail from Ken: "This cancer is going to get me it's just a matter of time. I rarely get out of the house anymore and when I do Marie takes me where I want to go. I still get a few leads, that I pass on to the boys in blue."

Ken Narlow is pictured below with his son, circa 1960: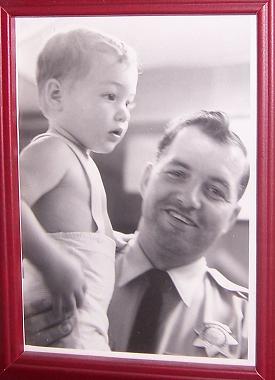 ---
Oct. 6, 2010) In the Sept. 19, 2010 update, Zodiackiller.com showed how the Zodiac mimmicked Count Marco's odd writing style. Just a month later, it appears we have solved yet another mystery. Click the image below for the latest: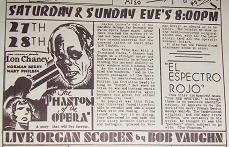 ---
Oct. 1, 2010) The 2008 Zodiackiller.com task-force meeting, which was held on Dec. 20, 2008 at the Roxie theater in San Francisco, is now available to watch online for free. Hosted by author David Van Nuys, the 100-minute video features several guest speakers, including Nancy Slover (she spoke to the Zodiac back in 1969).

Here is the link: http://www.youtube.com/ROXIE2008TFM
---
Sept. 19, 2010) Ever since Zodiac wrote a letter referencing San Francisco newspaper columnist Count Marco back in July 1974, speculation has remained over why Zodiac adopted such an unusual handwriting style for that particular letter. See below for my recent discovery (Click for a larger version):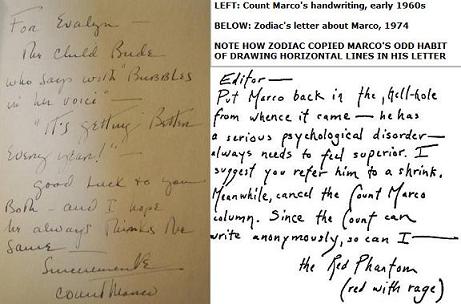 I believe Zodiac was very familiar with the nuances of Marco's handwriting. If so, that potentially narrows the suspect pool immensely.
---
July 29, 2010) It has been nearly 41 years since the Zodiac murdered cab driver Paul Stine in San Francisco. Since then, most of us only know Stine through one published picture. Exclusive to Zodiackiller.com, I am thrilled to bring you a look at Paul Stine the public has never seen: MEET PAUL STINE.

Also see: Click the image below for the 13-page scrapbook that was kept by Paul's mother, Audra:
(PDF | 99.2 MB)


---
Jan. 1, 2010) As we enter 2010, I believe the time is perfect to revisit places the Zodiac haunted more than four decades ago. Click here for a Zodiac flashback.