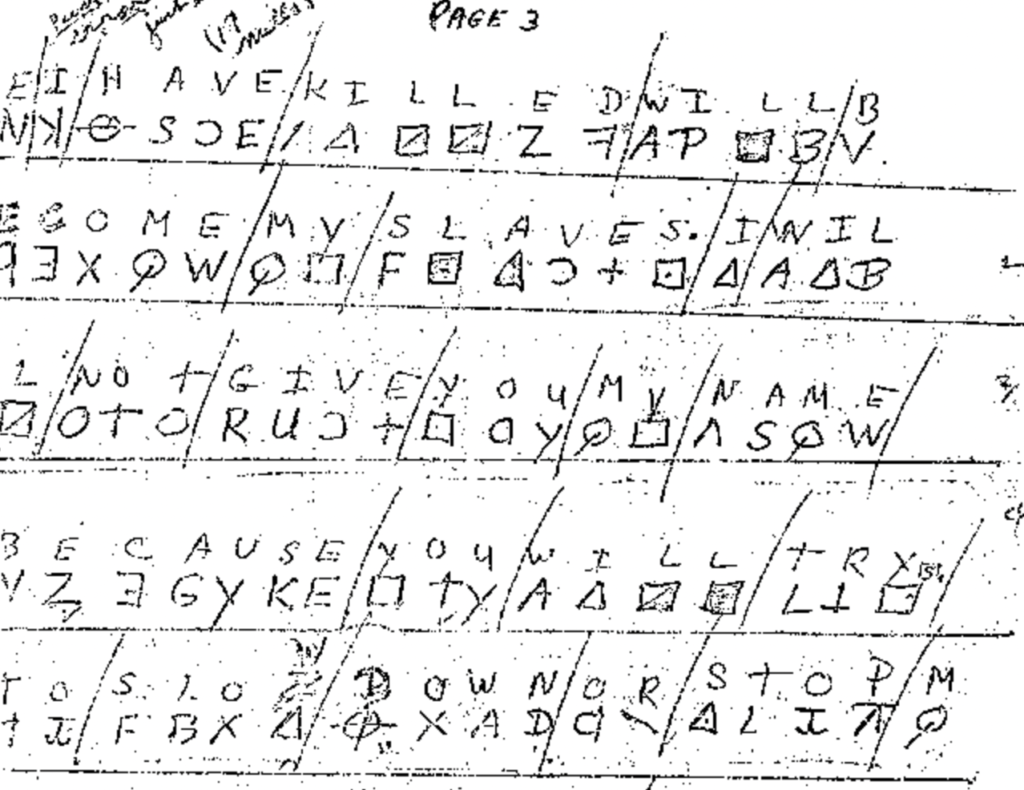 The Zodiac Killer Case Has Many Unsolved Mysteries
Although it's been more than 50 years since the Zodiac Killer began his string of horrific crimes in Northern California, there are still many things we don't know about the Zodiac Killer case. The Zodiac claims to have killed more than 30 people, but only 7 victims are officially recognized as victims of the Zodiac. The Zodiac sent ciphers to be solved, and after decades only two of the four ciphers have been cracked. Who was the Zodiac, really? Can we identify him after all this time?
Is It Possible That The Zodiac's Identity Is Hidden In A Cipher?
One of the two unsolved Zodiac ciphers is cipher Z 13 – a cipher included in a letter he sent to San Francisco Chronicle on April 20, 1970. Cipher Z 13 is near the top of the letter, following the words "My name is…"
It's questionable if the Zodiac would truly risk revealing something as important as his name. In fact, in a previous cipher, he clearly states "I will not give you my name." You can read the cipher than includes this message here – Z 408 cipher part 1, Z cipher 408 part 2, Z 408 cipher part 3. In one of the letters that accompanied the 3-part Z 408 cipher, the Zodiac wrote "In this cipher is my identity." The Zodiac willingly misled the readers of this letter by promising something he then refused to reveal.
It's possible that between the time of writing the Z 408 cipher and the Z 13 cipher the Zodiac had become so confident in his cipher writing ability that he truly did leave information that would make him vulnerable in the Z 13 cipher. After all, the Z 340 cipher had been written between Z 408 and Z 13. The Z 340 cipher remained unsolved until December 2020. Unfortunately, only time will tell if the promise of revealing his name in the Z 13 cipher was a lie or not.
Information Gathered From the #1 Zodiac Killer Website
Tom Voigt is responsible for the creation, curation, and editing of the #1 Zodiac Killer website, Zodiackiller.com. Launched in 1998, Zodiackiller.com remains the ONLY Zodiac Killer website recognized by law enforcement. To learn more about the release of Zodiac Killer: Just the Facts, as well as other information about the Zodiac Killer case, visit Zodiackiller.com today.