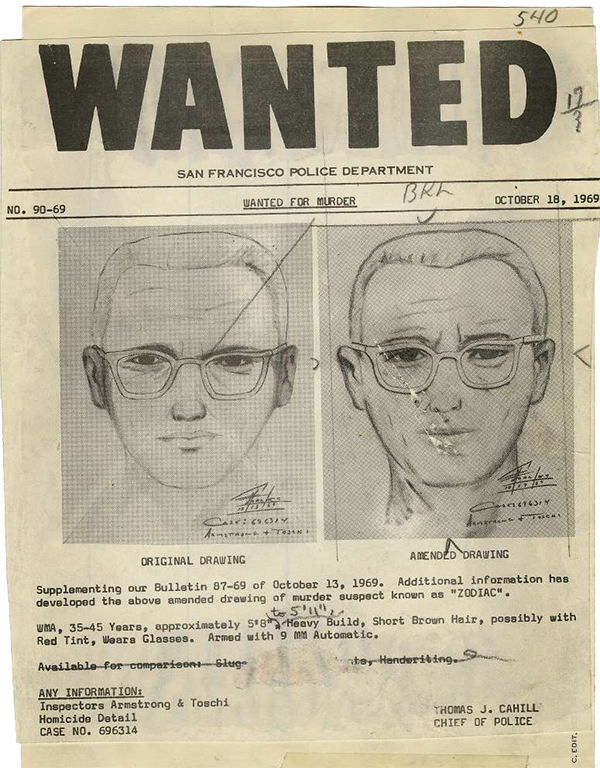 Who Was The Zodiac Killer?
More than 50 years after his killing spree in Northern California, people are still asking the question – who was the Zodiac Killer? The man behind the horrific crimes that took place during the 1960s and 1970s was never caught – but concerned citizens and police forces alike never quite gave up on figuring out his identity. Is it possible that, now, more than half a century later, we can still identify the Zodiac Killer?
Zodiac Killer Suspects
If you've been following the Zodiac Killer case for some time, you're familiar with the popular primary suspects. We spend plenty of time here on Zodiackiller.com discussing different suspects and the likelihood of if so-and-so could have been the Zodiac. Every now and then, public attention turns to a new possible suspect. Paul Alfred Doerr is just the latest in a long, long line of possible Zodiac suspects.
Could Doerr Be The Zodiac?
While it is certainly worth it to consider new possible evidence when its presented, sometimes the evidence simply isn't strong enough to concern those who are very familiar with the Zodiac Killer case. Our own Tom Voigt spoke out about Doerr, saying that he is "not really interested in Doerr." Although many consider Doerr's oddities enough to make him a suspect, Voigt hasn't noted "anything of substance" to make him believe that Doerr is a viable Zodiac suspect.
"The bar is pretty high, as far as compelling Zodiac suspects. You have someone like Ted Kaczynski, who is kind of the champion of the handwriting similarities. And then you have the guy with all the coincidences and the incriminating statements, that was Arthur Leigh Allen."
It seems much more likely that one of the more popular primary suspects, such as Arthur Leigh Allen or Richard Gaikowski, was truly the Zodiac Killer.
Want to read more Zodiac Killer facts? Try Tom Voigt's Zodiac Killer: Just the Facts. Read through police reports, Zodiac letters, and Zodiac ciphers – all chronologically ordered for your reading ease. Use the searchable index to find particular information.
Information Gathered From the #1 Zodiac Killer Website
Tom Voigt is responsible for the creation, curation, and editing of the #1 Zodiac Killer website, Zodiackiller.com. Launched in 1998, Zodiackiller.com remains the ONLY Zodiac Killer website recognized by law enforcement. To learn more about the release of Zodiac Killer: Just the Facts, as well as other information about the Zodiac Killer case, visit Zodiackiller.com today.