Dec. 12, 2007) My library of Zodiac-related video has grown quite large over the years, and some is extremely rare. One such rarity is a campy (but very good) production from around 1979 called Zodiac: Sign Of Death. At just under 10 minutes in length, Zodiac: Sign Of Death is packed with excellent footage and a funky 70s soundtrack. My favorite part is the voice of Zodiac; it's the same actor who was the voice of the computer "HAL" in the classic film 2001: A Space Odyssey.

Click the numbered links below to listen to select MP3 clips of Zodiac: Sign Of Death.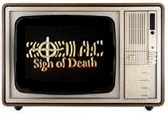 1 (146KB) | 2 (200KB) | 3 (99KB) | 4 (127KB) |
5 (181KB) | 6 (83KB) | 7 (83KB) | 8 (58KB) | 9 (133KB)
---
Dec. 1, 2007) A newspaper based in the United Kingdom recently published a story claiming mega-celeb Britney Spears is a regular user of this website. Could it be true? I'll never tell. (I make it a habit not to reveal the identities of site users who prefer to remain anonymous.) Click here to read the story.
---
Nov. 7, 2007) While I prefer to make all Zodiac-related information free for users to access, sometimes financial issues make it necessary for me to offer certain information for sale only. However, I believe the Zodiac case benefits greatly when people are more informed. That's more rewarding to me than the occasional Internet sale. Therefore, the Zodiac FBI Files, Historical Newspaper Archive and High-Resolution Zodiac Letters — three items that were previously available for purchase only — are now free to download. Click the links below:

FBI Files | Newspaper Archive | Letters
---
Nov. 4, 2007) In a little more than a year it will be the 40th anniversary of Zodiac's first-known attack. Since then, much has changed in the locations where Zodiac was active. Click the images below for a high-resolution view of life (circa 1960s) in Vallejo, Lake Berryessa and San Francisco, Cal.


(Images may be saved for free.)
---
Oct. 11, 2007) Today is the 38th anniversary of Zodiac's murder of Yellow Cab driver Paul Stine in San Francisco, Cal. While recent details of Stine's life have recently emerged and are being researched for possible clues (see the Sept. 12, 2007 update below), vintage photos from the files of the San Francisco Police Dept. are available to view. Taken within hours of Stine's murder, here are: the cab | the crime scene 1 | the crime scene 2


---
Sept. 26, 2007) It took hours of work, but 30 high-resolution images are finally available to view of top Zodiac suspect Arthur Leigh Allen's 1966-1968 personnel file. Several years ago I obtained the file from the Calaveras County (Calif.) Unified School District where Allen had worked as an elementary teacher. Within the file are many handwriting samples, including his two-page job application. If Allen was the Zodiac, the file might contain important clues.
---
Sept. 12, 2007) Recently I learned that Zodiac victim Paul Stine was allegedly hired as a reporter by the San Francisco Chronicle shortly before his murder.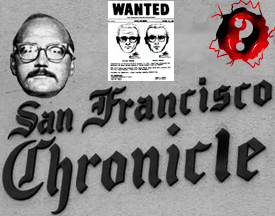 If that information is true, Stine — who worked as a reporter for his high school newspaper and was an English major at San Francisco State — was just days away from beginning his new job at the very newspaper Zodiac chose to write a vast majority of his letters.

The potential implications are staggering. However, it's extremely important that I verify this information as best I can.

If Stine was indeed telling others that he was a reporter for the San Francisco newspaper (even if he was simply exaggerating), it stands to reason that Zodiac may actually have known him and perhaps even targeted him for that specific reason.

If you knew Paul Stine or anyone in his family, circle of friends, classmates, fellow employees, etc, please click here to contact me. You may remain anonymous.


---
July 21, 2007) In just a few days, David Fincher's Zodiac will be available to rent and buy on DVD. While not exactly a factual portrayal of the Zodiac case, the film is packed with excellent performances. One of the best was turned in by Robert Downey Jr. in his portrayal of real-life reporter Paul Avery. (Avery was highly instrumental in the evolution of Zodiackiller.com.) In Zodiac, Downey Jr.'s character displays mostly annoyance toward the case. However, the real Paul Avery was very much involved in the Zodiac investigation. Here's a case report Avery prepared for the police back in 1971.


---
April 2, 2007) In the last few weeks, an incredible amount of tantalizing information has been collected about the person of interest ("Sam") this website developed in connection to the recently-discovered Eureka card. Several weeks ago I e-mailed a certain police department and asked if it would be interested in seeing the information compiled about "Sam." I have yet to receive a response. Quite unfortunate. In my opinion, "Sam" has surpassed Arthur Leigh Allen in terms of interesting Zodiac-related coincidences/circumstances.

It's now plainly obvious to me that before I again attempt to approach a law-enforcement agency about "Sam," I will need to have all of the bases covered so that "Sam" can't simply be ignored. Most likely a trip back to California will be necessary in order to accomplish all of the needed intimate background research and collecting of handwriting samples, as well as for me to approach "Sam" in person (along with a retired homicide detective).

> As expected, March 2007 was the busiest month in the history of Zodiackiller.com, as the March 2 release of David Fincher's film Zodiac helped boost my hits to a total of almost 30 million. Therefore, I almost feel guilty that Zodiac was such a total bomb at the box office. Of course, had the film spent more time on the Zodiac's victims, as well as the other aspects of the case that people actually find interesting, I have a feeling things would have turned out much differently for the film.


---
March 13, 2007) This morning at 9 o'clock (Pacific Time) I'll be a guest on Eureka (Cal.) Radio Station KSLG-FM to discuss the possible 1990 Zodiac correspondence (see the Feb. 25, 2007 update below). UPDATE: Click here for an MP3 file of the show (approx. 30 min. | 28 MB).

For much more on the Eureka card, including high-resolution scans, visit the all-new Zodiackiller.com message board.

> The 2007 Zodiackiller.com Task-Force Meeting was a huge success, as everyone who attended seemed to have a great time. David Van Nuys did an excellent job of hosting the event. Guest speakers Howard Davis, Nancy Slover and Bill Baker were terriffic. And of course, John Mikulenka's Hunting The Zodiac documentary definitely lived up to the high expectations.

> Thanks primarily to the heavy marketing campaign for the David Fincher movie Zodiac, so far this month Zodiackiller.com has already received more than 16 million hits! If you'd like to inquire about advertising opportunities, please contact me.


---
Feb. 25, 2007) In the last week, the San Francisco Chronicle discovered an envelope in its library of Zodiac materials. Inside the envelope was a greeting card. Apparently its importance had never been recognized, or it was thought to be a hoax.

A few days ago I was shown images of the envelope and card to help determine authenticity. I believe it is authentic. (I promised I wouldn't publish any images until they appear in the Chronicle.)

The Chronicle is busy preparing a huge story about this amazing and important development.

The date of the postmark left me in a state of shock.

> There's an all-new Zodiackiller.com message board. Click here to check it out.

> I'm departing for San Francisco this evening and won't be back for more than a week. During that time, I'll be extremely busy preparing for the upcoming Zodiackiller.com Task-Force Meeting (see the Feb. 14, 2007 update below for details) and I may not have the opportunity to update this site with new information. Therefore I suggest keeping an eye on the new message board, as the board moderators will post when I'm not able to. (I'll still be checking my e-mail several times a day.)


---
Feb. 14, 2007) A huge update this time, so make sure you scroll down for everything.

First and foremost, I'm deeply saddened to report the passing of retired San Francisco Police Dept. Inspector Michael Maloney, who died of a sudden heart problem this past weekend. Maloney was a great guy and a big friend of this website. Just last week he e-mailed me and was very excited about attending the upcoming 2007 Zodiackiller.com Task-Force Meeting (see below).

In the few years preceding his 2004 retirement, Maloney had a big involvement in the Zodiac investigation (along with his partner, Inspector Kelly Carroll). Together they gave renewed attention to the Zodiac case and were involved in the important accomplishment of securing the Zodiac's DNA profile, which may one day prove the key to solving the case. In late 2005, Maloney contributed this special report to Zodiackiller.com.

Meehall, I appreciate your contributions and will miss you. The next pint is on me. (Click above image to enlarge)

> The 2007 Zodiackiller.com Task-Force Meeting is scheduled for Saturday, March 3 at the 4 Star theater in San Francisco. The meeting is open to the public and will run from noon until 3 p.m., featuring the debut of John Mikulenka's documentary film, Hunting The Zodiac.
Special guests at the meeting will include Nancy Slover (the police switchboard operator who spoke to the Zodiac back in 1969), as well as David Van Nuys, the emeritus professor of psychology at Sonoma State University and co-author of This is the Zodiac Speaking.

> I'm happy to announce that my predictions of another delay were wrong. David Fincher's Zodiac will definitely be in theaters on Friday, March 2. And early reviews have been excellent. I'll be there for opening night.

> A new feature has been added to Zodiackiller.com! It's called SHOUTcast and it's my audio blog of all things Zodiac. So far I've only done one, but more are on the way. Hope you enjoy it.

> I haven't yet seen any ads for it, but apparently, FOX's America's Most Wanted will be devoting an hour to the Zodiac case on Saturday, Feb. 24, beginning at 9 p.m. (ET/PT).